Tabbed Caption Window
Esta tabbed caption window se comporta de manera muy similar a la mayoría de los navegadores web modernos. Cada ventana abierta se muestra como una pestaña en el título de la ventana. Puede mostrar un botón para permitir a los usuarios abrir nuevas pestañas si su aplicación necesita esta funcionalidad. Esta ventana se utiliza mejor páginas de un solo uso (como un navegador web). Aunque puede abrir cualquier tipo de user object o de objeto ventana en cada pestaña.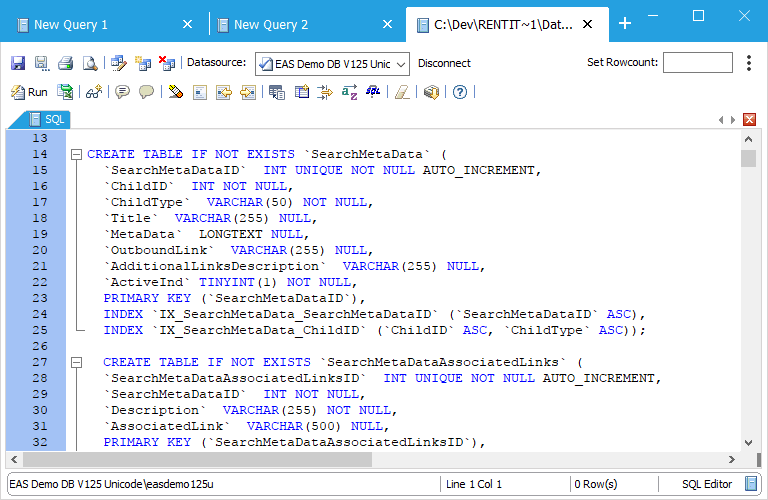 Para usar esta ventana, herede de w_pbus_spa_tab . Esta ventana no soporta el menú PB pero puede especificar uno para poder seguir usando los atajos del menú (menu shortcuts).
Aunque no es necesario, típicamente con este tipo de ventana usted querrá abrir una pestaña para su usuario cuando se abra la ventana. De manera similar a los navegadores web que precargan información para ayudarle a empezar. Del mismo modo, es posible que desee cerrar la ventana si el usuario cierra la última pestaña abierta:
Código de ejemplo:
"New Query", "SQL!")
//AddTabButtonClicked event
//Open a new tab similar   to how we automatically opened one in the open event
w_sql   lw_sql
of_OpenTab(lw_sql, "New Query", "SQL!")

//TabClosed event
//If there are no more tabs opened,   we can close the whole window.
IF   of_GetTabCount() = 0 THEN
POST Close(THIS)
END IF
Nota: El PowerBuilder Menu object no está actualmente soportado en esta versión. Una alternativa de este menú podría ser añadida en el futuro.

Problema conocido: Si desea mostrar su ventana como maximizada cuando se abra, deberá agregar lo siguiente en la parte superior de su ventana en el Evento de apertura:
THIS.WindowState =   Maximized!